Chamillionaire. Lyrics. Russia. Tattoos.
Every now and then I get reminded of how powerful music and words are. You never know how something you say can effect someone's life. I don't advise the tattoo thing but I always appreciate the support. Salute to Russia. Email from her and my thoughts below......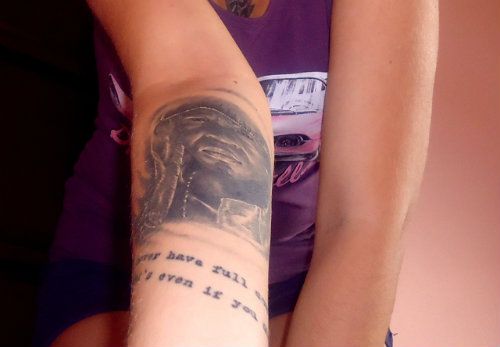 Whats up! I don't speak English and I'm writing about my chamillitary tattoo. I saw those comments ("he must b a die hard cham fan", "it is photoshopped") Hahaa but Im a girl from Russia and my chamillitary tattoo is real. I have 2 chamillitary tattoos. I put this lyrics on my hand (You'll never have full control and that's even if you Obama). I send my photos with tattoos. Maybe it is crazy, but it is really dope. Chamillitary mayne!
My thoughts are.....
1. Wow.
2. I can't believe you picked that quote.
3. Never been to Russia but Im sure you are my biggest fan there.
4. They thought it was photoshopped because of how detailed it is.
5. Welcome to the Chamillitary....
PS: If you purchased something from the store you will get your coins. Im gonna try to get them to reward everyone tomorrow.
2 users in chat
Next VIP Giveaway
The next item to be given away to VIP members is..
Article: Chamillionaire. Lyrics. Russia. Tattoos.