Chamillitary Shirts & Snapbacks Available Now.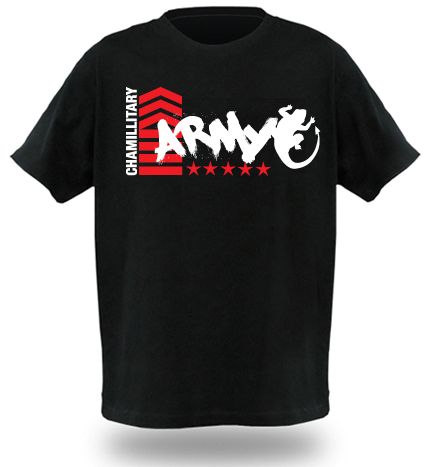 I just put a couple new Chamillitary Army General Shirts up on the site for sale/pre-order. These shirts are NOT like the ammunition shirts. I believe they are thicker and better quality shirts. If any of ya'll have one of those old Barack O Balla or Chamillitary shirts, these are more like those. I saw a lot of people come up to me on the road with Ammunition shirts and I believe the screen printing on the shirts could have been thicker. I also feel like the material of the shirts could have been a little thicker. I normally don't do small and medium sizes but since a lot of people have been asking me for those I decided to make those available also. I didn't put up 4x shirts because I don't think im gonna sell that many of those so im not sure if its worth the hassle. The white shirt has a logo on the sleeve and nothing on the back. The black shirt has "Rules are made to be broken" on the back.
The issue here is I have limited quantities of these items in the store. Im really just trying to test it out and determine what I would need to do to completely fill up the store with items without sitting on items. I would rather sell out of items than have an overage of stock. I don't want to have left over items in stock because I still have some cds and some shirts from the old site. I also normally release these shirts with a project and since Im not this time, I don't know what to expect. The demand will determine about how many different items I put up basically........
The shirts and hats are getting shipped to the distributor but are available for pre-order now. I believe I can sell them all before I even ship them. I put a note to allow a couple weeks on the merchandise page, but truth is I will probably sell them all quicker and will ship earlier. Its possible but like I said I have no idea what to expect just trying to see how well this goes. Of course you know I will update you on whatever I decide to do in addition to these shirts and hats.
When the pre-order is up I will take them down. That means when I run out. It could be quick or it could take longer than I expect. Im not really sure right now. if you order a cd with your shirt then please be advised that your cd will not ship until your shirt is shipped. They will all be shipped together.
The hats are New Era Snapback hats. I physically saw the hats and I can cosign that they are good quality snapbacks. Some hats fit weird but these are the type of hats you would normally see me wearing.
I tried to put the prices at a range that would make sense for me. I noticed some other artist selling items that I don't feel are as quality for more. The hats cost me more than the shirts but are easier to ship. I was gonna put up just a couple shirts but ill test out some hats also and decide what I think when they are gone.
I think it would be cool to just run through limited amounts of items so yall won't be wearing the same thing at shows. I went to one of my shows and saw so many ammunition shirts that I knew I needed to make more variety. Im sticking with his color at the moment though. (Just got some new White Retro 4 J's that match the shirt).
Maybe Ill have a couple items that might be available for long periods of time, but not these, they are limited. As always I appreciate your support.
Check out the shirt here:
http://www.chamillio...om/artist/store
and then click on the merchandise link........
If you have any private thoughts for me then you can email me chamillion@chamillionaire.com
Everyone else can just comment.
0 users in chat
No users are chatting on the VIP page at present
Next VIP Giveaway
The next item to be given away to VIP members is..
Article: Chamillitary Shirts & Snapbacks Available Now.